The Cutting Cafe-Regina Easter
2 Cutting Files of the winners choice!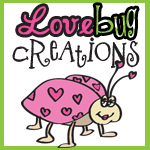 Lovebug Creations- Kimi
1 Bahama Mama Collection of Rumple Ribbon
Now that you know the AMAZING prizes, its time to HOP to see some AWESOME creations!!!
I met Jessica where other than facebook! We are in a lot of the same groups as eachother and have done a few hops in the past together! Its always a fun time =) She shares the same love I have for Jaded Blossom and Close To My Heart!
Jessica gave us a challenge for this hop. We are playing tic tac toe! Here is the board she gave us...we didn't have to do it in an actual tic tac toe order, but...it was fun to do!
CTMH Dream Pop collection (limited release)
CTMH Cranberry embroidery floss (no longer sold)
Pop Dots, Glue Dots & my ATG Gun
Now, its time to hop on over to Sarah!
In order to be eligible to win an AWESOME prize from hopping along with us, you MUST do the following:
1) Follow ALL blog hop participants blogs!
2) Follow ALL Facebook pages for our Sponsors!
3) Comment on all stops of the hop!
Winner will be picked on Tuesday's blog post!
Here is the lineup in case you get lost along the way!